Welcome to the African Chamber of Commerce - DFW Website!
We are glad you took the time to drop by and see what we're about. Visit our Membership page to see how you can get started enjoying member benefits today!Also visit our What's Going On page to view upcoming event information.
________________________________
"KENYA: OPEN FOR BUSINESS"
KENYA BREAKS GROUND
on the new City of Konza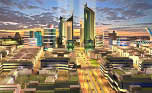 ________________________________
Follow Us On...

A FREE 2-Day Event.
Click on an event date below for additional information.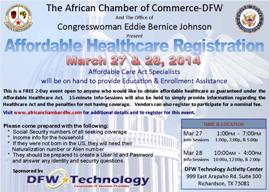 (CLICK IMAGE FOR LARGER VIEW OF EVENT FLYER)
Participants should come prepared with the following:
*
Social Security numbers of all seeking coverage
* Income info for the household
* If you were not born in the US, you will need your
Naturalization or Alien number
* They should be prepared to create a User Id and
Password and answer any identity and security
questions.
* If you are not a US Citizen but have a Permanent
Resident-Green Card, you are eligible to register
with your Green Card.